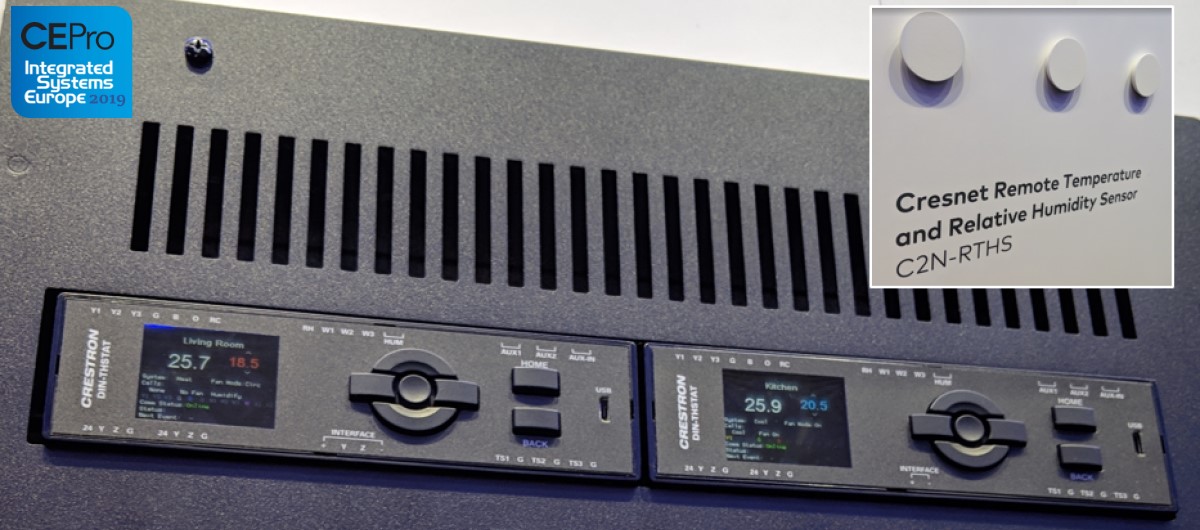 Crestron, a world leader in smart control and home automation technology, have in the past few days announced that they are now shipping their new DIN-THSTAT DIN Rail Mountable thermostat.
In the same announcement, they also teased new Professional Installation Cabinets that perfectly pair with the DIN-THSTAT and which will be shipping soon.
According to the company, the new thermostat and cabinets can twin perfectly to allow system integrators to deliver clean professional, climate control installations to end users.
The DIN-THSTAT DIN Rail Mountable thermostat can be used with Crestron CHV-RTS, CHV-RTHS, or CHV-RSS temperature sensors. It provides a wide range of features and capabilities that would suit a variety of installations.
Those include 3-stage heating and cooling, support for three independent remote sensor inputs, a full colour LCD display for easy setup and diagnostics, and flexible Cresnet communications.
The thermostat is also compatible with a range of different types of installation. It can be installed in an equipment cabinet or on a wall. The cabinet can be flush or surface mounted.
Speaking of cabinets, Crestron's upcoming new Professional Installation Cabinets will be available in three sizes and can contain up to 10 thermostats. Controls will be exposed for easy access and the provided service rail can be used for power supplies, Ethernet to Cresnet connectivity bridges, Cresnet wiring, and more.
If you would like to discuss your requirements for Crestron home automation and smart control solutions please call us today on 0800 195 4825.