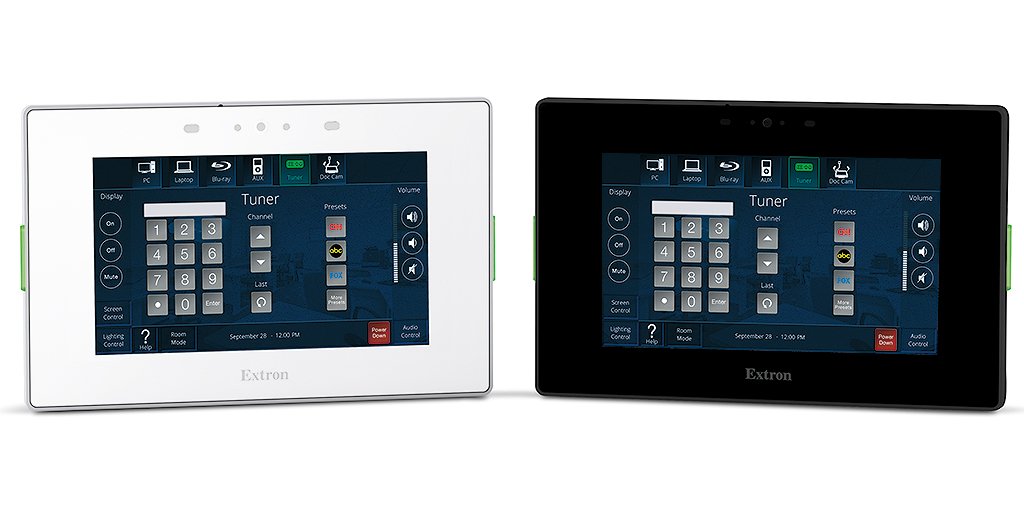 Extron Electronics, a world leading manufacturer of audio visual and control solutions, have in the past few days announced the introduction of a new 5" wall mounted touchpanel to expand their existing range.
Named the TLP Pro 525M 5″ wall mount TouchLink Pro touchpanel, the new touchpanel has been designed by Extron inside and out with a new, high-performance quad-core processor and eight times more memory.
What's more, the touchpanel also boasts an 800 x 480 capacitive touchscreen built with scratch and smudge-resistant edge-to-edge Corning Gorilla Glass to ensure durability and a hard wearing nature.
According to Extron's announcement, the TLP Pro 525M also features the convenience of Power over Ethernet (PoE), which allows it to receive power and communication over a single Ethernet cable.
All of that, therefore, makes the new 5" wall mounted touchpanel ideal for any environment requiring a stylish, wall-mountable touchpanel with a fully-customisable control interface. That is, at least, according to Extron's vice president of sales and marketing Casey Hall:
'This new TLP Pro 525M touchpanel satisfies customer requests for the same sleek design and edge-to-edge glass as our 7″ model, but in a more compact size…Inside, you'll find the same enhanced processing power and memory; and of course we gave it super-tough Gorilla Glass to make sure it is as robust as it is stylish.'
If you would like to discuss your requirements for Extron control or audio visual solutions please call us today on 0800 195 4825.