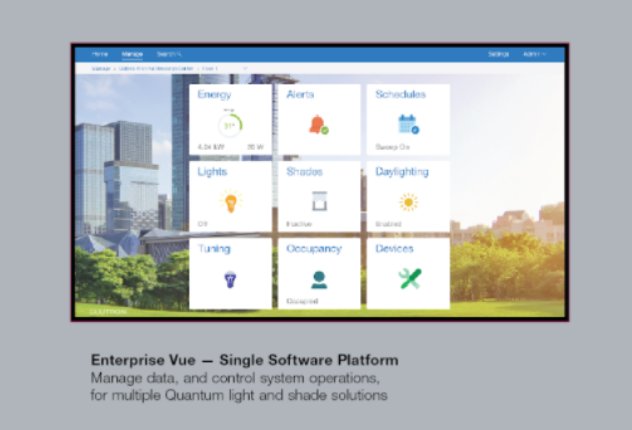 Lutron, a world leading manufacturer and supplier of smart lighting solutions, have recently announced the launch of their new Enterprise Vue single data and management platform. According to the company, the platform is ideal for managing multiple Lutron systems across corporate and university campuses, retail locations, or hospitality and restaurant spaces.
The Enterprise Vue management platform allows users to control multiple buildings or environments in real time, whether they are all in one location or scattered around the world. That capability is provided thanks to a combination of data from Lutron's Quantum and Vive systems.
That data, provided across all buildings which are Quantum or Vive enabled, is made available to configure, monitor, analyse, report and act upon via the Enterprise Vue intuitive and actionable multi-building dashboard.
The platform, therefore, supports Lutron's mission to simplify smart building technology and ensure that more spaces can be IoT-enabled and easily controlled. That is at least according to Lutron's vice president of commercial systems and communications, Scott Hanna:
'Creating the right environment for occupants across multiple buildings and geographical locations was a complicated process until now…Enterprise Vue delivers one comprehensive system with unparalleled visibility and the efficacy necessary to control all of your smart buildings.'
If you would like to discuss your requirements for Lutron enterprise or smart lighting solutions please call us today on 0800 195 4825.