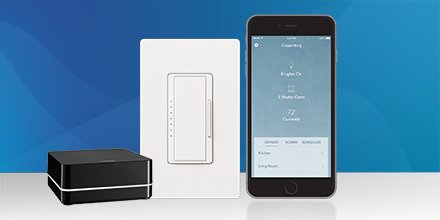 Lutron Electronics, a world leading manufacturer or smart lighting and home automation solutions, have in the past week officially launched their newest lighting control system. Named Lutron RA2 Select, the new control system is described as a simple and expandable whole-home lighting and shading control system for residential properties.
Designed to be more user-friendly, the system – which was initially announced at the end of 2017 – makes it easier for homeowners to personalise their property's lighting and also works with various third part home automation technologies. Those include Alexa, Google Assistant, HomeKit and the Works with Nest program.
Essentially representing a simple, more affordable lighting control system for homeowners, RA2 Select's most notable feature is its easy installation. Everything is set-up from within a dedicated app, and recommended lighting and shading scenes are created as each device is added to the system.
Up to 100 of those different devices can be built into each RA2 Select system and the only wiring required is related to the in-line dimmers and switches. All other wall switches, dimmers and sensors are wireless, do not require any intrusive installation work and work through a mains repeater.
David Ribbons, Lutron's senior director of sales in Europe and Africa, explained just what RA2 Select provides to homeowners:
'RA2 Select puts total control in the hands of the end-user – allowing them to manage and personalise their system in any way. This makes it an ideal solution for homeowners who want the benefits of a professionally installed smart home system, but also the flexibility and power to make their own changes via the app.'
If you would like to discuss your requirements for Lutron smart lighting solutions please call us on 0800 195 4825.